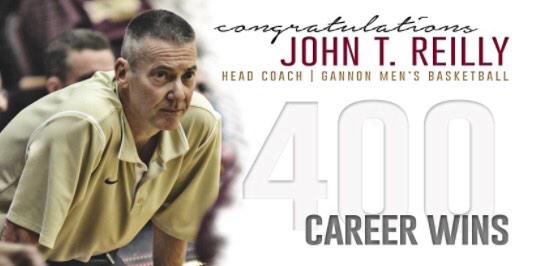 Finals week has traditionally been rough for both Gannon players and fans. Monday through Friday is filled with make-or-break exams, then the week concludes with a sub-par effort by mentally exhausted student-athletes against a cupcake opponent (Urbana, Tiffin, Penn State-McKeesport, Thiel, and Roberts Wesleyan were past mid-December foes. That's uglier than brown slush on State Street.)
Anyone who saw live or watched the video highlights of Gannon's
83-79 double-overtime win vs. East Stroudburg
Tuesday and
55-54 slugfest victory against West Chester
Wednesday realized this finals week brought some of the best basketball of the year to the Hammermill. Evident in both games were Gannon's guts, but otherwise the Knights took two radically different paths to a achieve a 6-0 PSAC mark:
*
vs. ESU:
Gannon allowed 54% shooting in the first half, a season-high 79 points, and 12 three-pointers, committed 17 turnovers, clanged a dozen free throws, and blew a 7-point lead
in just 15 seconds
.
*
vs. WCU:
Leading scorer and pre-season All-American Adam Blazek produced a season-low 3 points before fouling out along with #2 scorer Girbran Smith, the Knights shot just 42% from the field, allowed 13 offensive rebounds, and committed 18 turnovers.
If you saw only those stats and not the final scores, you'd think Gannon would have suffered an 0-2 week and John Reilly would still be stuck on 398 wins. (Congrats on that milestone, Riles. You certainly didn't take any shortcuts to get there.) Instead, the Knights ended a 7-game losing streak to Stroud and a 4-game skid vs. the Rams.
Gannon bullied ESU on the boards, outrebounding the Warriors an astonishing 55-32 including 0 offensive rebounds in the first half and just 7 for the entire game (compared to 19 GU offensive boards.) Raphell-Thomas Edwards led the charge with 17 rebounds, including three on one offensive possession in the second half.
I'm still not quite sure how Gannon ended up on the right side of the scoreboard against West Chester. The Rams showed high energy early, bolting to a 9-point lead, but the Knights scrambled on defense which both slowed down and frustrated their opponents. Cory Blake entered the game as West Chester's top scorer (14.6 ppg) but he was just 0-of-3 at halftime and 1-for-6 heading into the game's final possession, Gannon clinging to a 1-point lead. West Chester coach Damien Blair (more on him later) called time out and set up 4 Rams on the baseline, letting Blake go 1-on-1 against Thomas-Edwards.
You can watch that possession here beginning at the 4:02 mark
, but let me spoil the ending for you: Thomas-Edwards snuffs Blair's two attempts to get to the basket, and guard Avery Brown's driving attempt is stuffed by RTE. The Rams bench erupts after the buzzer sounds, in part because they thought Brown was fouled (he wasn't; watch the video) but also because the Knights' defense drove them mad ... and to a sixth consecutive loss, only one of those defeats by double-digits.
If the remaining games on Gannon's schedule are all 20-point snoozers, we could still look back on this season and say, "Man, there were a ton of amazing games this year!" Most finals weeks are forgettable for Gannon fans. This week's games were an outstanding outlier.
More thoughts on the Stroud and West Chester games:
* Due to a family commitment, I wasn't able to attend the GU/ESU game Tuesday (add that to my list of deathbed regrets). But Gannon SSID (Super Sports Information Director) Dan Teliski did not leave me in the dark. His extended video clips --
9 1/2 minutes of action
-- allowed me to watch nearly every key play. I commend Teliski and his staff on their efforts but also have to give credit to the University. It's been
well publicized that Mercyhurst recently cut back
on its sports information staff. Gannon has chosen to invest in first-rate coverage of its sports teams. I'm very grateful for that.
* And Teliski doesn't quit working when the game's over. He emailed me this gem today: "There have been 29 ties and 44 lead changes during our last four games against IUP, Shepherd, East Stroudsburg, and West Chester. And there were zero of both against Shepherd." I'll use this data when I ask my doctor for a double-dose prescription of migraine meds.
* Sitting near the opponent's bench for GU games, I come away disappointed by the behavior of most coaches. West Chester's Damian Blair took my dismay to a new level Wednesday. Early in the game after a double technical, I heard a Gannon fan shout, "Play the game right!" Blair heard it too, so he turned around and said to no one in particular, "I won't let them yell at my players." Then he looked at the Gannon radio team of Jim LeCorchick and Sean Amicucci and at me and said, "Who's in charge here? Where's your athletic director?" before walking to the middle of the press table asking similar questions. No big deal, I thought. The guy is intense and overprotective of his players. But clearly Blair isn't protective of or respectful towards officials. He spent a good portion of the game out of the coaches box, sometimes even making contact with the referees while he berated them.
In the second half, the Gannon fan I mentioned earlier made another comment (I can't recall exactly what he said but it wasn't vulgar), and Blair responded by muttering, "Get a job." Prior to the game's final possession, I said to a faithful Gannon season ticket holder sitting behind me, "If a call goes against them (West Chester) on this possession, this coach is going to go through the roof." I was incorrect on the direction of the explosion but dead on with the emotional reaction. After the final horn, Blair stormed from the bench to under the basket to protest the call --
you can watch it here starting at the 4:16 mark
-- swinging his right arm at the referee as he got closer. One more step and he would have punched the official in the face or neck. Blair then walked toward midcourt screaming "f---ing bulls---" more than once before quieting down to shake John Reilly's hand.
Blair and other coaches like him have to understand they aren't just trying to win a game, they are representing their university. And I'm predicting the story I just told won't find its way
onto the West Chester University website
or into any of its prospective student marketing materials.
* I was happy Gannon won Wednesday and absolutely ecstatic for struggling sophomore Matt Dogan that his three-pointer with just over a minute to play held up as the final margin of victory. Before draining that trey, Dogan was just 8-for-38 from the field and 3-for-22 from behind the arc this season. When he first caught the ball, he looked around for a teammate to pass to before deciding to try the wide-open shot. A
new local author was recently quoted in the Erie Time
s saying, "I believe writing chose me." Dogan didn't choose his game-winning shot; it chose him.
I hope this will be the boost of confidence needed to get Dogan, a red hot shooter at West Middlesex, on track as a Knight. Those who saw him play regularly in high school, including a former Gannon Knight who is a good judge of talent, thought Dogan performed at a Division I level. He can give Gannon an additional (and much-needed) perimeter scoring threat as we head into 2015.
* Speaking of 2015, Gannon's next 5 opponents all have .500 records or worse vs. Division II opponents: at Cheyney (1-9), at Millersville (4-7), at Shippensburg (4-4), vs. Kutztown (4-4), vs. Edinboro (3-4). That doesn't guarantee easy victories -- we learned that first-hand from West Chester -- but it sure sets up the Knights for second semester success.
* I might have said Gannon "passed finals week with flying colors" in this post but thank goodness I avoided that cliche. The stepfather of
Gannon freshman Isaiah Eisendorf
is
syndicated sports columnist Norman Chad
, so I need to raise my game in case he stumbles across this article.